[AB] Single Origin Coffee Beans- Light Roast. Arabica 250g
The Single Origin Coffee range is designed to be affordable yet lovable, best suits your daily morning coffee consumption and even espresso-based drinks.
Here features our hand-picked high altitude Arabica and Robusta coffee beans from around the world. Great for your beginning cups!
Many customers have repeatedly come back to grab these fresh and high-quality coffee for their affordable price and aromatic coffee flavors!
---
KENYA AA
This selection of the great coffees around the famous Mount Kenya, the second-highest mountain in Africa, is harvested by small farmers from various cooperatives. These excellent coffees grow at 1,750 to 1,900m above sea level on fertile volcanic earth, on the slopes of Mount Kenya.

The medium-light roasted Mount Kenya AA+ gives you a great punch of tropical, fruity, intense, and complex taste, its full body, and a lovely aroma in the cup. The fruity notes of Berries, Peaches, light fruits, and the slight sweetness of caramelized give the typical Kenyan coffee taste.

Region: Mt. Kenya, Co-op
Altitude: 1,750 - 1,900 MS
Varietal: SL28, SL34
Process: Washed
Roasting Level: Medium Light
Taste Note: Tropical, Cranberry, Peach
Recommended Brews: Pour Over, French Press, Cold Brew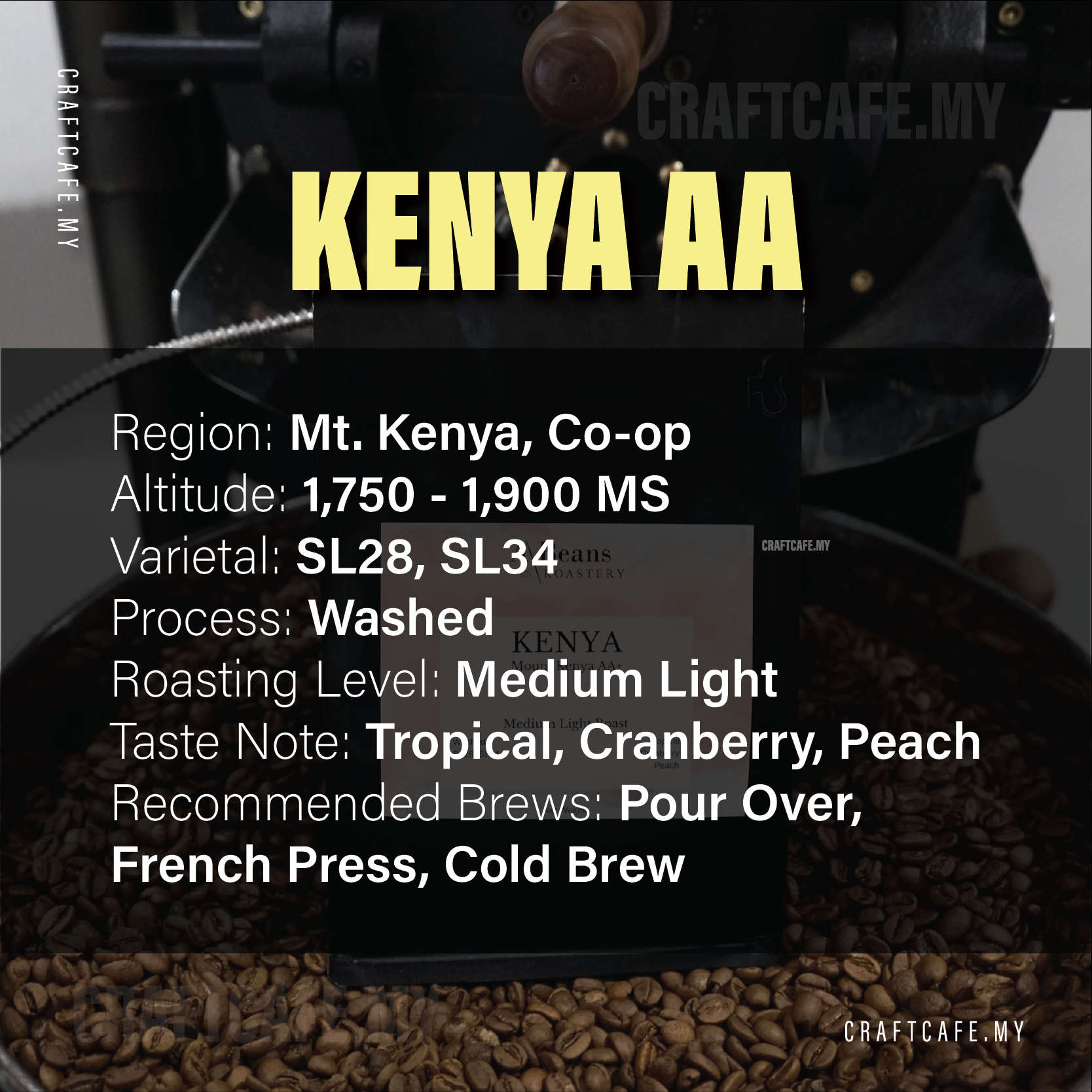 ---
TANZANIA NGILA ESTATE
This great coffee is from the renowned coffee estate from Tanzania, Ngila Estate. There is a 250-hectare farm planted with 150,000 coffee trees on 100 hectares of land. The farm sits on the edge of the cloud forest of the Northern Highlands next to the famous Ngorongoro Crater and has been RFA and UTZ certified for a decade, the farm owners use traditional methods to fertilize as well as to control pests and diseases, especially focusing on biodiversity.

This medium roasted coffee is complex, gives you sweet citrus upfront with cranberry and a lot of deep sweetness while giving you some black tea-like after taste at the same time. With its complexity, this coffee tastes great with a filter, while in espresso, the bright fruit acidity cuts through milk wonderfully.

Region: Karatu Ngila Estate
Altitude: 1,550 - 1,650 MS
Varietal: Typica, Bourbon, Kent
Process: Washed
Roasting Level: Medium
Taste Note: Black Tea, Citrus, Cranberry
Recommended Brews: Cold Brew, Pour Over, French Press, Espresso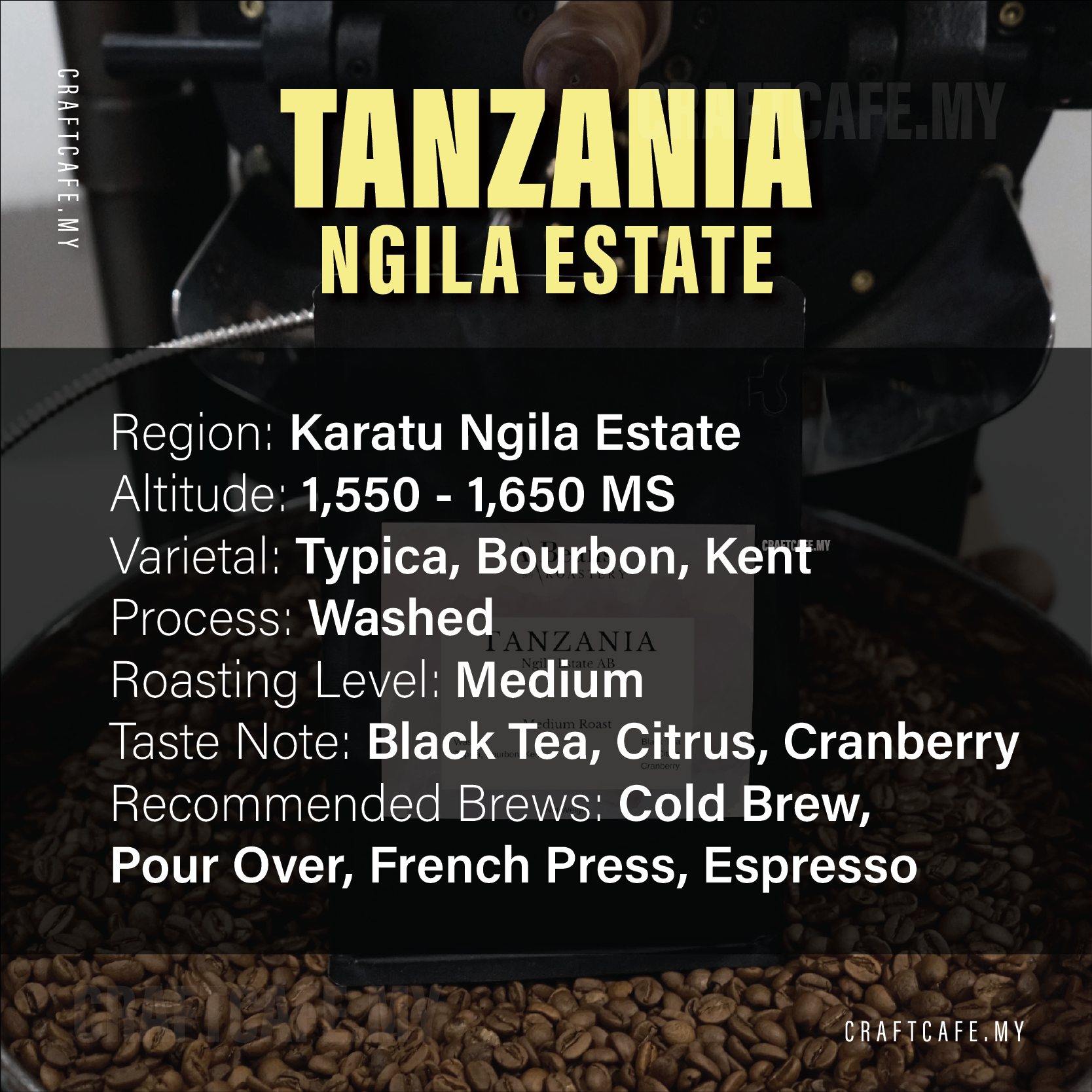 ---
MALAYSIA BAGAN LIBERICA
The Local Coffee Bean

Liberica coffee being the rarest coffee species in the world, which holds only less than 2% of the world's coffee production until today. Proudly, Malaysia is one of the countries that produce Liberica coffee.

This Johor Bagan Liberica was sourced from the growing region of Bagan in Johor, Malaysia, and produced by our fellow friend "House of Kendal". Due to its low sea level, this coffee has a really low density, thus the roasting done on Liberica in order to not kill its flavor profile is a different but fun experience compared to other coffee.

Liberica is typically grown around South East Asia during the 1980s. This coffee we present is proudly grown, processed, and roasted in Malaysia. Tastes very different from African and American grown coffee. With medium-light roasted, it comes with light notes of Nut, Jackfruit, and Caramel with its overall distinct Liberica taste profile. Coffee enthusiasts should definitely give it a try to add to your coffee dictionary!

Region: Bagan, Batu Pahat
Altitude: 10 ms
Varietal: Liberica
Process: Natural
Roasting Level: Medium Light
Taste Note: Jack Fruit (Nangka), Nutty, Caramel

Recommended Brews: Pour-over, French Press.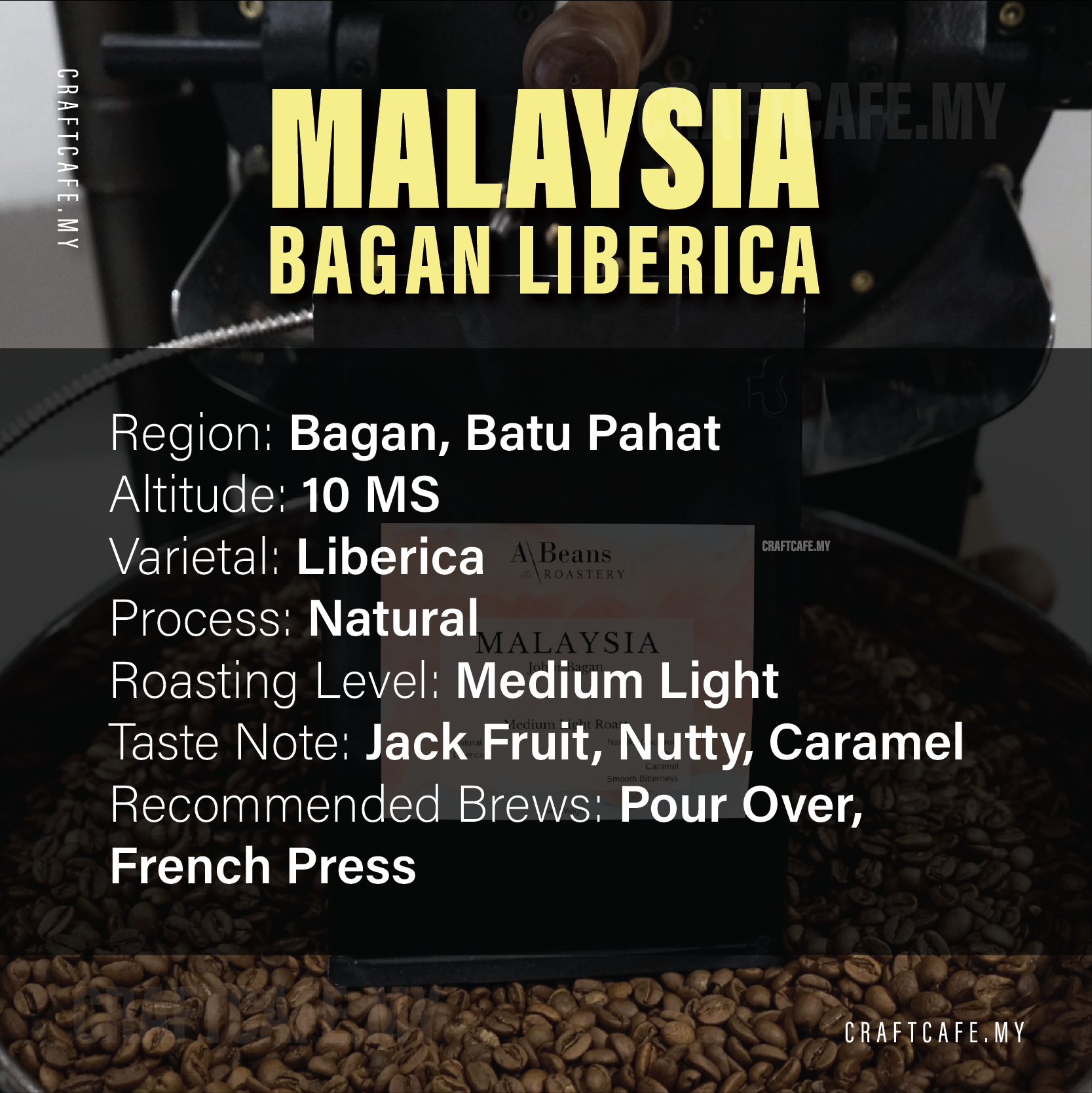 ---
MYANMAR SHAN STATE
Myanmar is a relatively new origin to the specialty coffee community, Arabica Coffee production is centered around the Southern and Northern Shan States, and in Pyin Oo Lwin. The government of Myanmar has historically been pro-coffee production and jump-started production as means to curb opium poppy planting in the 1980s. In the early 2000s, the government launched a new program that offered land, financing, and technical support to prospective coffee producers, and coffee production increased as a result. This lot is from the Southern Shan State, with the average farm falling between 1,300 and 1,600 meters above sea level. Producers deliver their cherry to a central collections depot daily, where their lots are inspected, graded, and sorted before purchasing.

The medium roasted profile develops a sweet cup out of this natural processed coffee and preserves the main flavors from its acidity that gives a winey and ripen fruits kind of smooth and deep acidity, while it develops enough for a nutty and aromatic cup as well.

Region: Shan State
Altitude: 1.300 - 1,600 ms
Varietal: Catimor
Process: Natural
Roasting Level: Medium
Taste Note: Winey, Nutty, Ripen Fruits
Recommended Brews: Pour Over, French Press, Cold Brew, Espresso.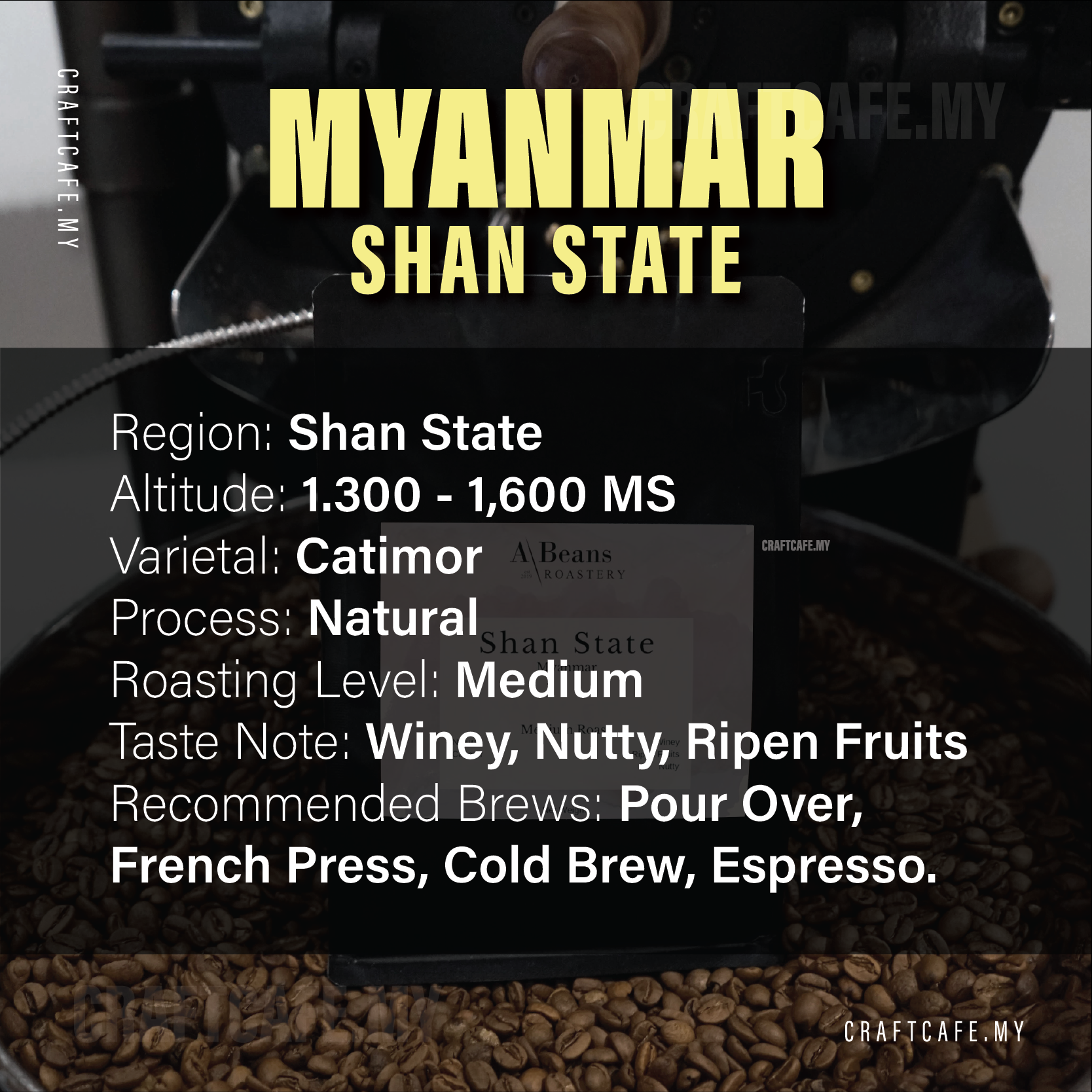 ---
ETHIOPIA MAMO KACHA
Ethiopia is widely regarded as the birthplace of coffee, and Yirgacheffe—in the bottom half of the country, in the Gedeo Zone of the Southern Nations, Nationalities, and Peoples' Region (SNNPR)—is arguably its most famous growing region.

"Yirgacheffe" is a rather broad label, and can encompass a range of flavors and cup profiles. For this reason, we chose to purchase our Yirgacheffe from Mamo Kacha, an exporter that selects higher-grade washed lots from the ECX for us and curates a very intentional regional blend that's not only the classic Yirgacheffe cup profile we love but also the highest-end version of what the Yirgacheffe label signifies.
This Yirgacheffe was grown at an altitude of 1,500 - 2,100 meters. Being medium-light roasted, it gives you sweet lemon notes upfront while some hint of Blackcurrant sweetness in its after taste.

Region: Yirgacheffe
Altitude: 1,500 - 2,100 MS
Varietal: Heirloom
Process: Washed
Roasting Level: Medium Light
Taste Note: Lemon, Cardomom, Blackcurrant